HWSC in Binghamton and Union-Endicott
Hillside Work-Scholarship Connection helps Binghamton and Union-Endicott students stay in school, earn their high school diplomas and prepare for higher education or employment.
Currently, HWSC is working with approximately 105 students at Binghamton High School, and with 60 students at Union-Endicott Tiger Ventures High School. These young people receive 360-degree support from school-based Youth Advocates who help them develop good habits, acquire social skills, and achieve their potential for success at home, in school and at work.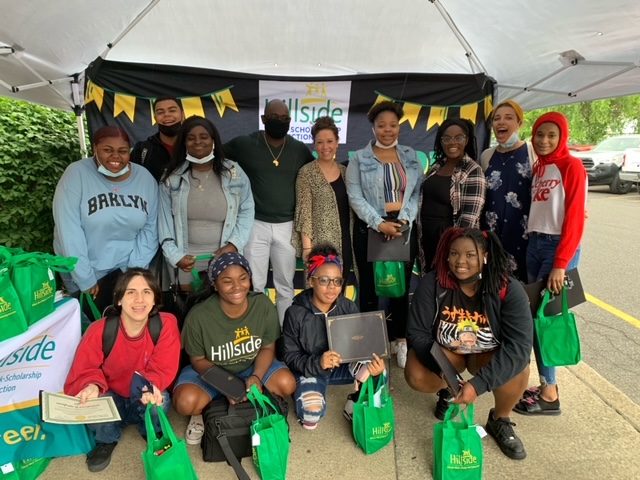 Year over year, HWSC's model brings positive outcomes for participating students, their families, and their community. Across all regions in 2021, 92% of students who stayed with the program throughout high school received their diplomas. And that number jumped to 99% for students who held part-time jobs with a Hillside Employment Partner. (These and other insights are included in our HWSC Outcomes Report for the Class of 2021).
In 2021, HWSC participants celebrated their first-ever graduating classes in Binghamton and Union-Endicott! Congratulations on their achievement!
Regional Employment Partners
Binghamton-area employers are invaluable partners in the success of HWSC and our students. HWSC Employer Partners recognize the importance of a new generation of ready-to-work young people. We're proud to collaborate with these partners to link HWSC students with individualized resources and experiences that make such a difference in their lives.
Regional Advisory Council
With Hillside's broad geographic reach, community-based perspectives are essential. Our Advisory Council members help us remain responsive to the diverse needs of the communities we serve. Many thanks to our Greater Binghamton advisors:
Tracey Fish
Melissa Hardesty
Jeffrey Jacobs
Suzanne McLeod
Nicole Rouhana
To learn more about HWSC's Binghamton and Union-Endicott activities, contact Karinda Shanes, Regional Executive Director, at 585-256-7500 or info@hillside.com.