Hillside Strong: Diversity, Equity & Inclusion
Hillside is a part of the communities we serve. Deep within our mission is an implicit commitment to supporting a diverse, equitable and inclusive society. Our agency is dedicated to reversing the multigenerational damage too often caused by poverty, trauma and neglect. Every day, our people see the links between those issues and structural racism and inequity.
Hillside's Commitment to Diversity, Equity & Inclusion:
Hillside creates an inclusive environment where we leverage our diversity to build a strong, equitable community.
We support diversity, equity and inclusion (DE&I) in all aspects of our work—for the good of our employees, and the youth and families we serve.
Hillside believes that Black lives matter. Our agency strongly opposes acts of racism and violence in any form.
Our executives actively engage with government, education and community leaders to explore the nature of structural problems, and how Hillside can make a difference.
Our harassment-free workplace policy explicitly supports a working environment that is free of inappropriate behavior, including sexual harassment.
An open door policy ensures that concerns can be brought to leaders without fear of retaliation.
Watch a brief video gallery of the Summer 2020 Black Lives Matter art exhibit featuring artwork created by young people in residential treatment at Hillside.
Hillside's DE&I Structure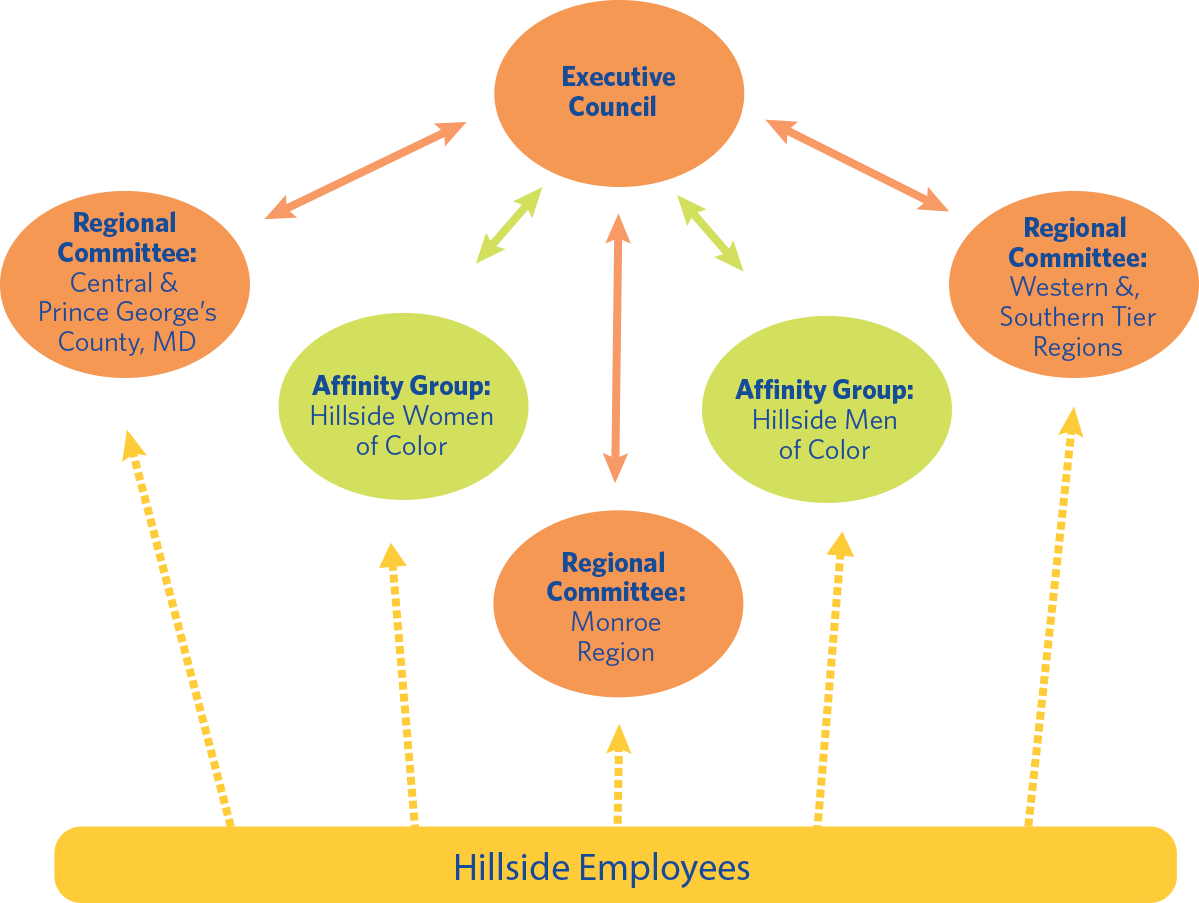 A diverse and inclusive community requires many points of view. Hillside's DE&I commitment brings employees together at all levels of the organization, to ensure their voices are heard.
Ideas and suggestions for agency-wide change are shared with the Executive Council, which also meets monthly.
Affinity groups including Hillside Men of Color and Hillside Women of Color meet throughout the year, to share vital thoughts and perspectives.
Because these activities are fundamental to our effectiveness as an organization, staff participate in DE&I meetings as a part of their workday. The shape of the work continues to evolve, but our dedication to DE&I is unwavering—for the benefit of our employees, and the communities we all call home.
Among the many ongoing examples of Hillside's commitment to DE&I, the recently completed pilot of our leadership diversity program stands out this month. The program was launched in July, with a primary goal of strengthening the diversity of leaders throughout our agency—creating new opportunities for advancement among interested employees of color, and further enhancing our ability to serve the community through a DE&I lens.
Of the six employees who participated in the pilot, one has already accepted a promotion within Hillside—and leaders will continue to engage with her fellow participants to make sure they have the opportunities they deserve for their own future advancement. In the meantime, our Executive DE&I Council and our Organizational Development team are unpacking the learnings from the pilot program to share the benefits more broadly.
The leadership diversity program is expected to return in 2023, and more exciting and thought-provoking DE&I work is ongoing at Hillside. For now, please accept our best wishes for a joyous holiday season—no matter how you celebrate!
Proud to partner with Social Current
The Alliance for Strong Families and Communities and the Council on Accreditation have joined to form Social Current. The combined mission is to advocate for and implement equitable solutions to society's toughest challenges. As a longstanding member of the Alliance for Strong Families and Communities, Hillside is a proud member of this new partnership, supporting the effort to ignite change for an equitable society where all people can thrive.