Why Work at Hillside: Great Benefits, Greater Impact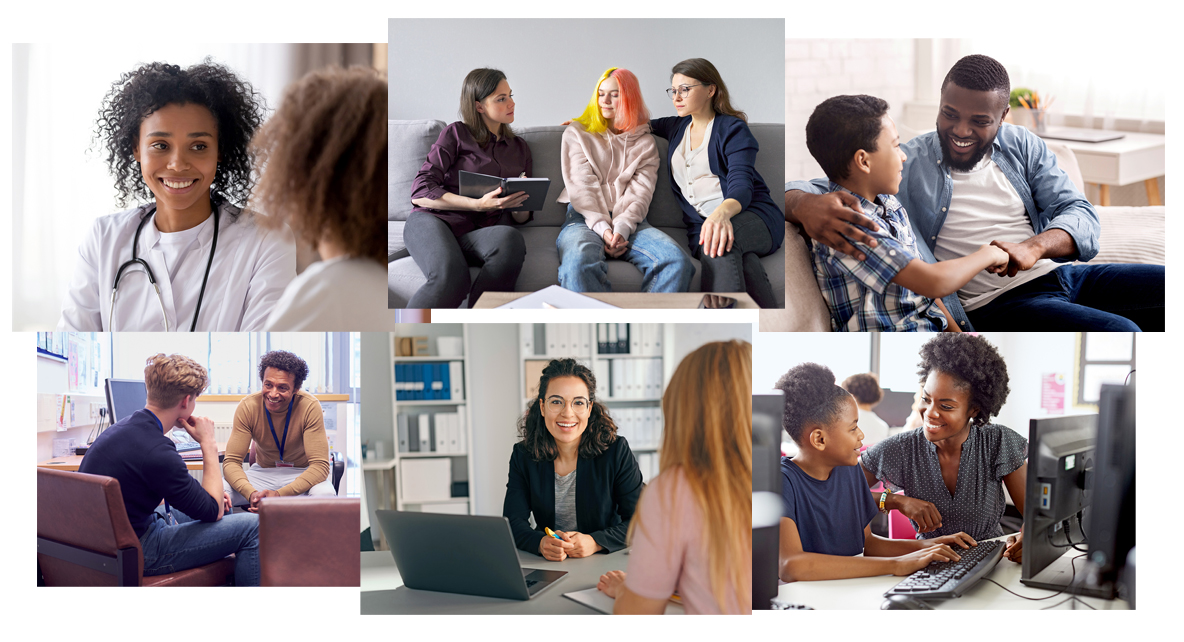 As a Hillside Team Member:
You'll work with vulnerable children and families to help them achieve the stronger futures they deserve.
You'll work in residential campuses, in-home or community environments and local school districts—to name only a few locations.
You'll approach challenges independently and as part of an extraordinary mission-driven team.
You'll learn and refine your skills every day, while enjoying a positive work/life balance and building a career that benefits you and your community.
The Hillside Culture: Celebrating Our People
At Hillside, we salute our employees every day! Through team-based recognitions, annual recognitions by our Board of Directors, milestone celebrations or agency-wide Employee Appreciation Week events (pictured), Hillside honors the women and men whose talent and dedication make a powerful difference in the lives of those we serve.
I continue to work at Hillside because of the flexibility in scheduling, and empathy and understanding that family matters. Hillside has seen me through a divorce and spending a week in the ICU with my daughter. I had to learn how to manage being a single mom, work full time, attend all the specialist appointments for my daughter, and be there for their extracurricular activities. I could not have accomplished that without the encouragement and flexibility of Hillside. Since then, I have moved on to a supervisor position and hope that I can offer the support to others that I was given.
"The environment is positive, and the diversity of the company is like no other. You truly feel like a team."
"I've been at Hillside almost 32 years and I've never been bored — there are so many opportunities and always something new and exciting going on."
"I work at Hillside because it presents opportunities to make a difference. I'm encouraged to share new ideas. I like that there's opportunity for growth."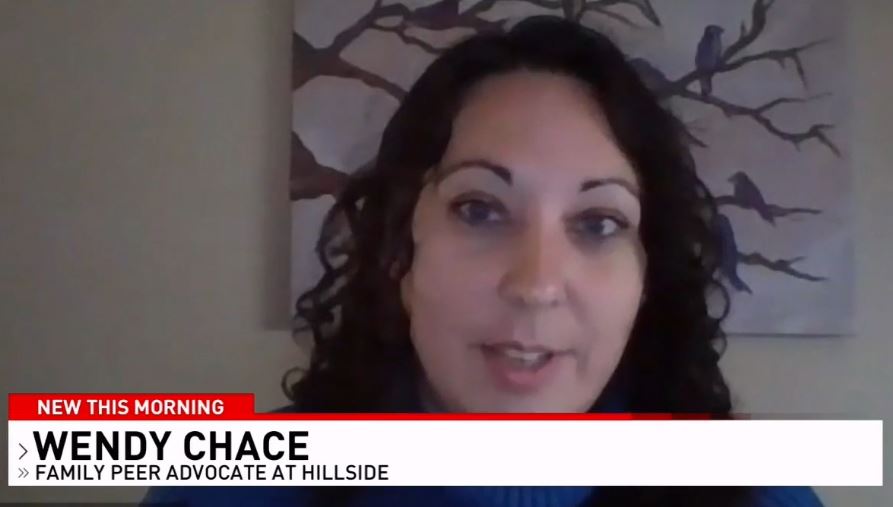 "To be able to walk with other families through their journeys — to help them have hope, to be encouraged — I'm able to do that at Hillside, and I'm very grateful."
I have been working at Hillside for 20 years! There are a lot of opportunities for growth and they have great benefits.
I've built my career at Hillside as a nurse and love working here with a skilled, compassionate, inter-disciplinary care team. If you are a nurse, or know a nurse looking to make a difference in a child's life, consider joining the Hillside family!
At Hillside, you and your family are supported by a comprehensive benefits package that considers your needs today and your plans for the future:
Starting wages of $17/hour or higher for all positions
Generous Paid Time Off
Paid holidays, including Juneteenth
Medical & Dental coverage
Flexible Spending Accounts
403(b) retirement savings plan with employer match
Employee Assistance Plan
Continuous learning opportunities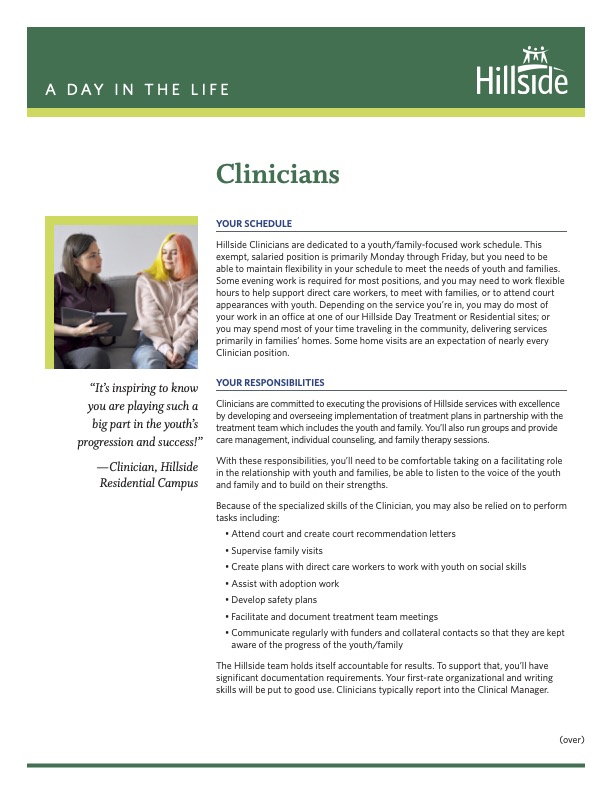 CLINICIANS
Specialized skills make you a key part of the care team for our youth and families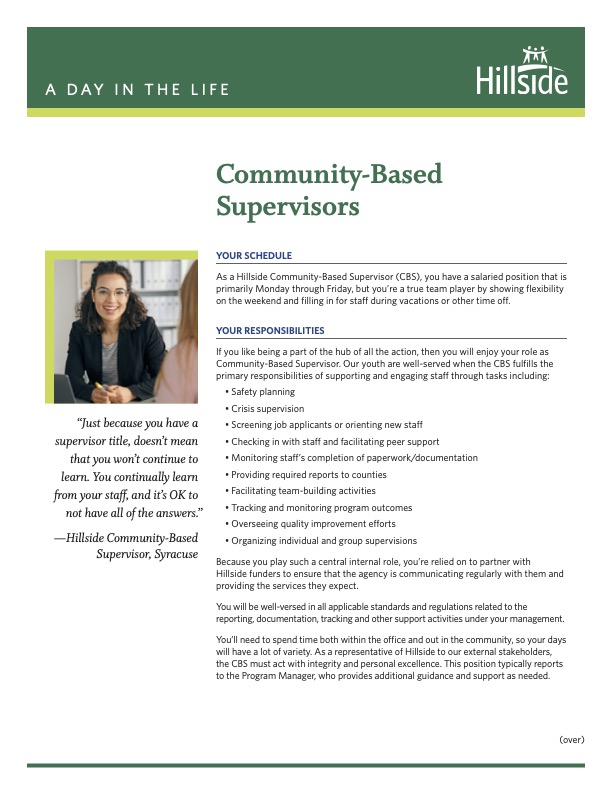 COMMUNITY-BASED SUPERVISORS
If you're comfortable playing a central role in engagements with youth and families, you'll love this work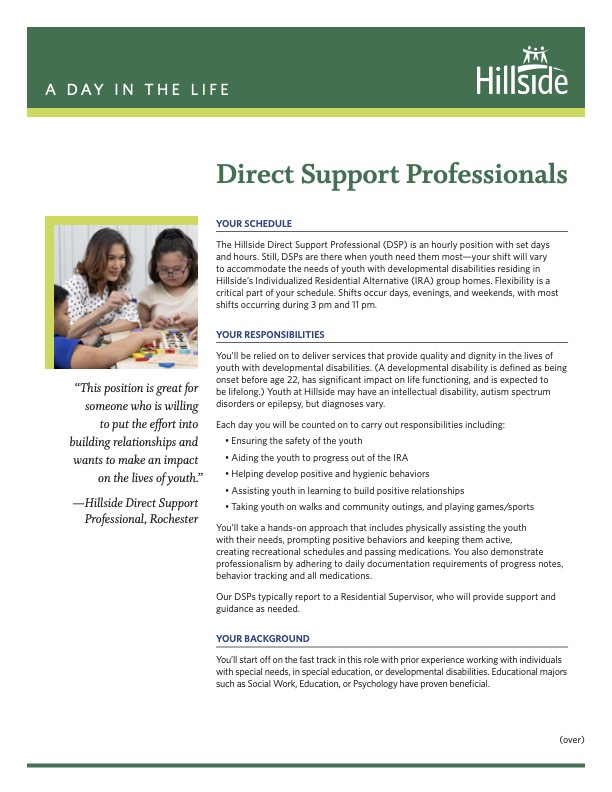 DIRECT SUPPORT PROFESSIONALS
Working in our group homes, you'll have a variety of responsibilities that strengthen the lives of individuals with developmental disabilities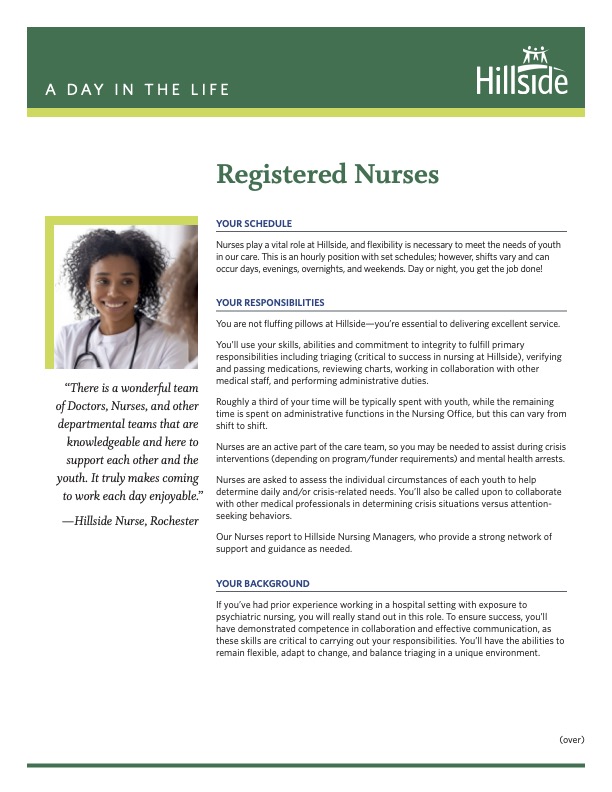 REGISTERED NURSES
RNs are an active part of Hillside care teams, and support the health and wellbeing of the youth we serve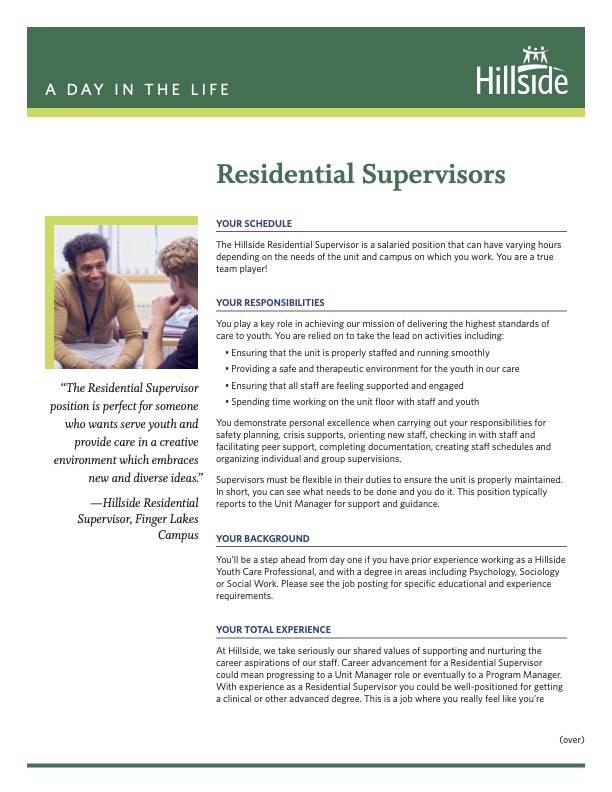 RESIDENTIAL SUPERVISORS
An ideal role for someone who thrives in a creative environment and embraces new and diverse ideas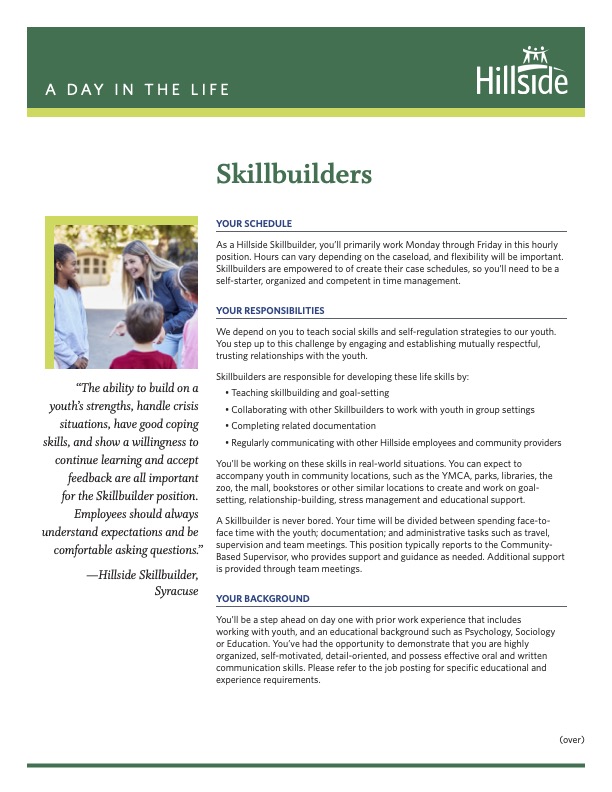 SKILLBUILDERS
Through a range of creative activities, you'll help young people learn vital skills that put them on pathways to success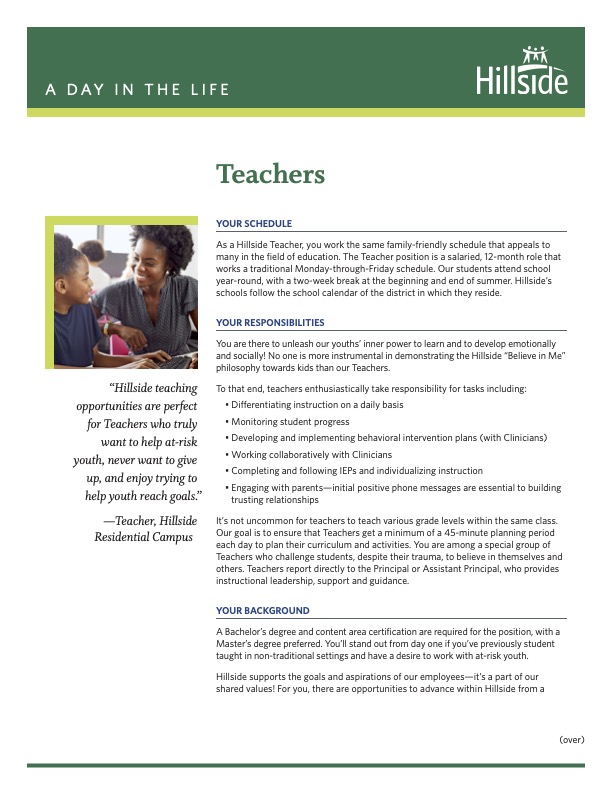 TEACHERS
Get ready to help young people unleash their ability to learn and develop emotionally and socially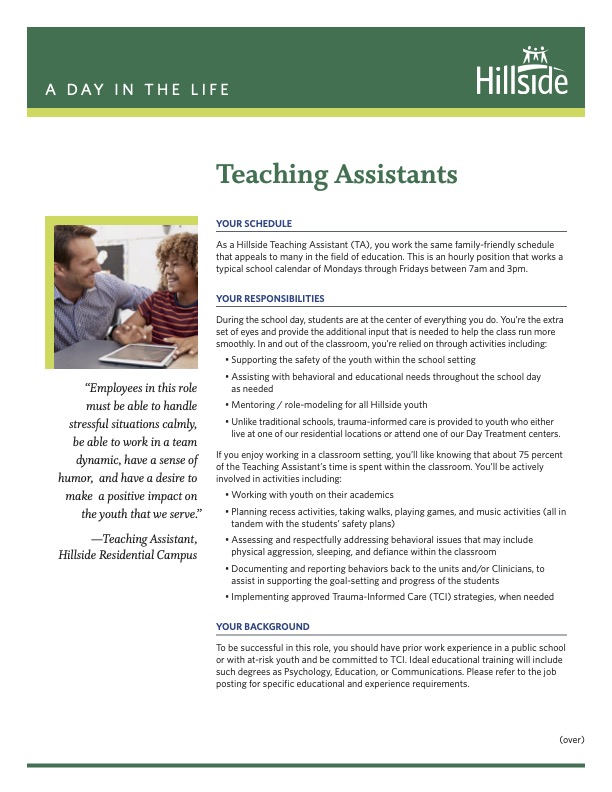 TEACHING ASSISTANTS
Students and the classroom are at the core of your workday—it's a great way to make a difference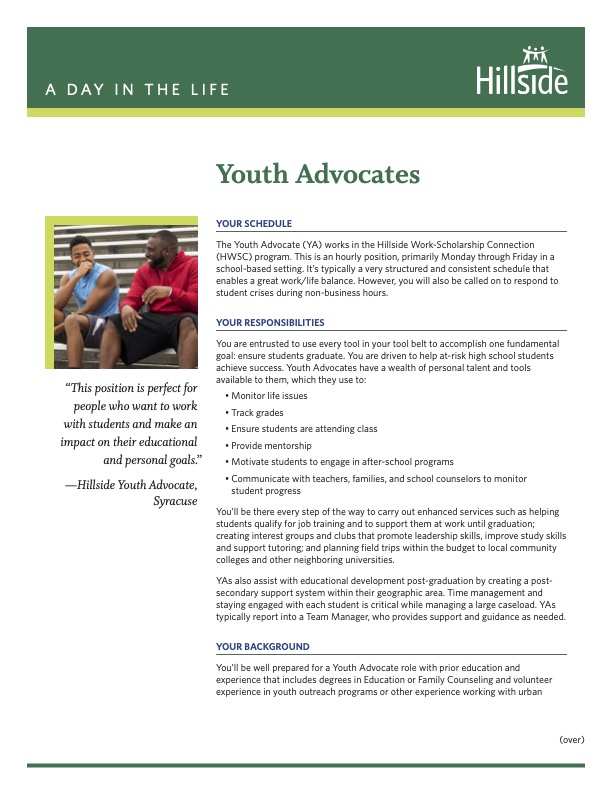 YOUTH ADVOCATES
Working in public schools and the community, you'll be a powerful partner in the lives of students and their families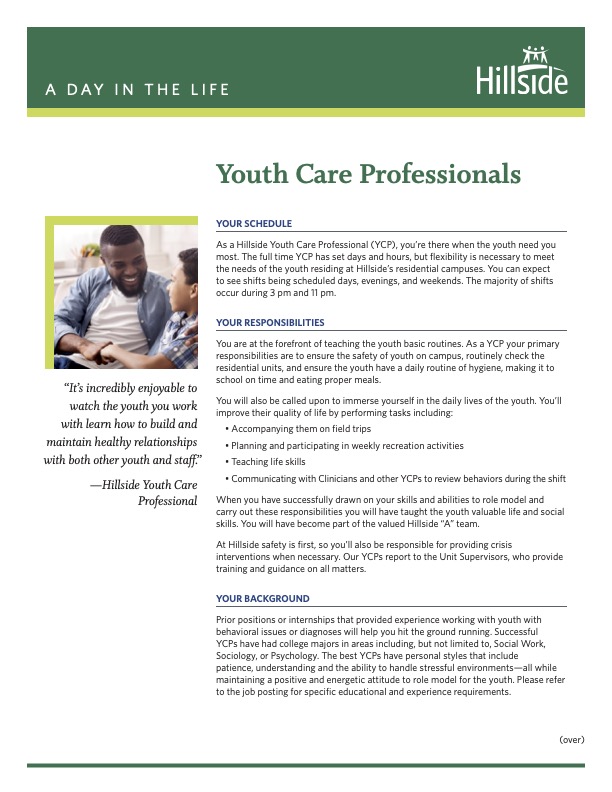 YOUTH CARE PROFESSIONALS
An exciting entry-level role for anyone interested in a team-based approach to improving the lives of young people in need
Learn More About Working at Hillside