Family Empowerment Network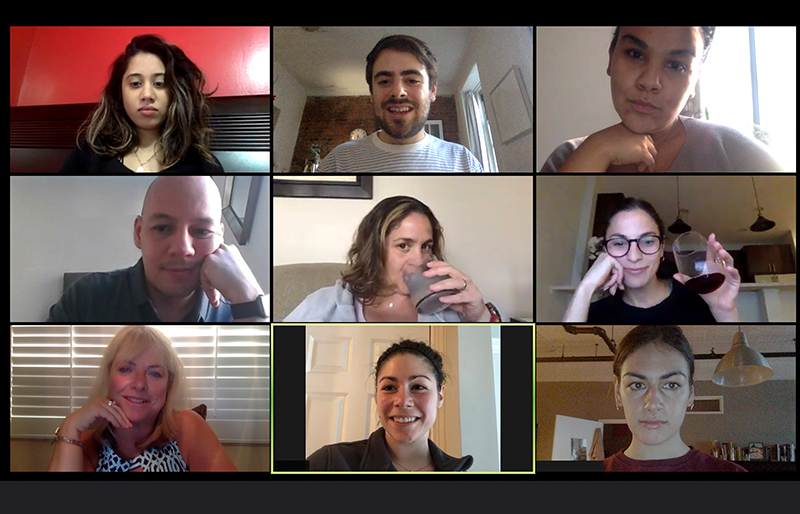 Staying Connected and Growing Together
At Hillside, families are at the heart of everything we do. We formed the Family Empowerment Network (FEN) as another way to bring families together—to offer support, share perspectives, and provide invaluable guidance that strengthens the entire Hillside community.
Virtual FEN meetings are convened multiple times each month, and are free of charge to attend. The meetings are open to all current or former Hillside parents, caregivers and family members, as well as family advocates, youth mentors and interested staff. FEN meetings include:
Roundtable discussions that empower parents and caregivers
Opportunities to meet other families, staff, leadership and community and state partners
Educational opportunities to keep you in-the-know about beneficial information and resources
Whether you're currently a parent or caregiver looking for support, or you're simply looking to stay connected with other like-minded individuals, you don't have to go through your situation alone.
Each month, Hillside's Family Empowerment Network hosts virtual groups that are facilitated by Hillside Family Peer Advocates. Any Caregiver/Parent of a youth currently or previously served by Hillside is welcome to join.
RSVP required 5 days prior to group
March
Empowerment Group: Physical Touch – 5 Love Languages
3/1: 10am to 12pm
Parenting the Love & Logic way: Supporting Youth w/ Special Needs
3/7, 3/14, 3/21, 3/28: 6pm to 8pm
This training discusses ways to understand their child's unique needs and gifts. In this class parents are educated on why empowering kids with disabilities involves understanding needs and strengths, a process for helping them experience success, how to maintain healthy expectations while teaching youth to meet them, the behaviors they need to learn to succeed in school and life as well as a five step process for reaching academically discouraged and unmotivated learners.
*Caregivers must live in Chautauqua, Genesee, Livingston, Orleans or Wyoming Counties or Be engaged with a Hillside program that has a Family Peer Advocate*
Understanding Special Education- Understanding RTI, 504, and IEP's
3/8: 6pm to 8pm
Informative webinar focused on the information of RTI,504, and IEP followed by discussion and resources provided. This will help break down the difference of each aspect of special education, supported by resources to follow through.
Empowerment Group: Words of Affirmation – 5 Love Languages
3/15: 10am to 12pm
Residential Caregivers Mix and Mingle: Overview of CARE
3/16: 6pm to 7:30pm
*This group is for those who currently have a youth in a Hillside Residential Program*
Effects of Technology on Brain Development
3/23: 6pm to 8pm
Grandparents Raising Grandchildren
3/25: 1pm to 3pm
A group where grandparents and their grandchildren can come together and learn about other people in similar situations. *this is a hybrid group, participants can join at 96 w. Buffalo St Warsaw, 14569 in person or via ZOOM*
Empowerment Group: Acts of Service – 5 Love Languages
3/29: 10am to 12pm
April
Empowerment Group: 4/12/23 10am to 12pm Acts of Service – 5 Love Languages This group will review how the Love Language: Acts of Service can be used to increase positive interactions and decrease conflict
Residential Caregivers Mix and Mingle: 4/20/23 6pm to 7:30pm This is an opportunity for Caregivers of youth currently in a Hillside Residential Program to meet virtually, discuss a topic and gain/offer support to peers
Empowerment Group: 4/26/23 10am to 12pm The 5 Love Languages Review An opportunity to meet with other caregivers and discuss how the 5 Love Languages can positively impact relationships with your youth and others.
Parenting the Love & Logic way: 4/27, 5/4, 5/11, 5/18, 5/25, and 6/1 6pm to 8pm This parenting program is designed to give you practical skills that can be used immediately!
*Caregivers must live in Chautauqua, Genesee, Livingston, Orleans or Wyoming Counties or Be engaged with a Hillside program that has a Family Peer Advocate*
Do you have ideas for a Group? Please send them to fen@hillside.com! As we go back into the school year we will be offering more groups- stay tuned.
If you're interested in learning more about FEN and joining the conversation, contact Hillside at fen@hillside.com or 585-256-7500.