Although DE&I is a year-round concern for the Hillside community, autumn traditionally sees a particular increase in employee activities following the vacation-rich summer months. For example, two affinity groups – the Hillside Men of Color and Hillside Women of Color groups – have resumed their regular meetings to connect and provide support, discussion, community engagement, celebration, networking and professional development. All Hillside employees of color are encouraged to participate.
***
At our recent Employee Conference, we launched the next steps in our adoption of Safe Zone training, a highly interactive and in-depth effort dedicated to enhancing employees' knowledge of the LGBTQ+ community. Safe Zone training is just one way in which Hillside is committed to active allyship through an intersectional lens. We'll be offering more opportunities for our teams to engage in this and other DE&I trainings in the future.
***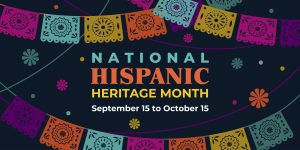 Happy National Hispanic Heritage Month! Through October 15, our staff and communities nationwide will be celebrating the histories, cultures and contributions of American citizens whose ancestors came from Spain, Mexico, the Caribbean and Central and South America. This page at the Smithsonian offers a wide range of insights and resources about Hispanic cultural contributions—check it out!