HWSC in Prince George's County
Hillside Work-Scholarship Connection helps Prince George's County students stay in school, earn their high school diplomas and prepare for higher education or employment. Currently, more than 500 students are enrolled in HWSC from nine Prince George's County Public Schools:
High Schools
Bladensburg
Central
Fairmont Heights
Potomac
Suitland
Middle Schools
Benjamin Stoddert
G. James Gholson
Drew-Freeman
William Wirt
These young people enter the program in grades 7 through 9, and receive 360-degree support from school-based Youth Advocates who help them develop good habits, acquire social skills, and achieve their potential for success at home, in school and at work.
Year over year, HWSC's model brings positive outcomes for participating Prince George's County students, their families, and their community, seen in these graduation rates from the PGCPS Classes of 2021:
Joining HWSC in Grade 9 or earlier sharply increases the likelihood of on-time graduation compared to non-participating students.
Students who remain in HWSC throughout high school enjoy even greater results.
HWSC EMPLOYED & YETA-CERTIFIED

96%

96%
Students who are YETA-certified and employed by an HWSC employment partner see the highest graduation rates of any segment of the program.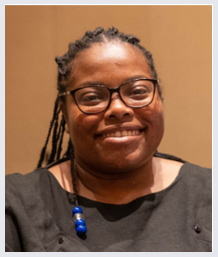 Thanks to her own hard work and support from HWSC, Jael Gibson graduated at the top of her Potomac High School class in 2022. "Youth Advocates and Hillside staff have all been very nice and kind. Without them, I would have struggled a lot more. Students should want to join Hillside because they help in all areas," she says.
Regional Employment Partners
Prince George's County employers are invaluable partners in the success of HWSC and our students. HWSC Employer Partners recognize the importance of a new generation of ready-to-work young people. We're proud to collaborate with these partners to link HWSC students with individualized resources and experiences that make such a difference in their lives.
Regional Advisory Council
With Hillside's broad geographic reach, community-based perspectives are essential. Our Advisory Council members help us remain responsive to the diverse needs of the communities we serve. Many thanks to our Prince George's County advisors:
Kirk Blackman
Verlinda Darden
Henry Davis
Ayana Douglas
Howard Stone, Jr.
To learn more about HWSC's activities in Prince George's County, contact Desiree Ramseur-Gray, Regional Executive Director, at 888-514-4455 or info@hillside.com.